Parents Names: Sally & Nigel
How many premmie babies do you have? 1, Brendan born at 30+1
How long were they hospitalised for? I was in hospital for 2 weeks prior to birth and Brendan was in for 6 weeks
Is there any prematurity in your families history? None at all Brendan is the first.
How did you cope with the world of prematurity when your child/children were born? I wouldn't say I coped, I managed the best way I knew how to. I stayed next to the hospital in old nurses quaters and was able to visit Brendan whenever I liked.
How did you feel when you first saw your child/children after they were born? I was amazed and scared all at once. I gave birth vaginally, I'm not sure whether that was a good thing or not. I watched as a NICU team resucitated Brendan. My mum, my midwife and myself all thought that he wouldn't be leaving the room alive.
Did you find it hard deciding to have another baby or have you decided no more? I am actually already pregnant, due in July 09. It was a difficult decision to make and I hope we've made the right one.
Have there been any lasting complications due to your child/children's prematurity? if so how have you dealt with it? Apart from the usual weight hassles and delays Brendan is an active and healthy toddler. He is delayed in Speech and Language and also Fine Motor skills. We see a Speech Pathologist and also and Occupational Therapist. It is difficult having a child who can't communicate very well, but we have gotten to learn any signs he gives us.
How do you feel now about prematurity and how do you help others be aware of how serious it is for babies? I feel strongly towards prematurity, I feel that it is my duty to help others and pass on any advice I have. Whenever I get the chance to explain Brendan journey I do, it is amazing how many people just aren't interested though. I have an online blog and have shared Brendan's journey on many many websites. I wish there was more that I could do for KEMH, where Brendan was born, but distance is our biggest issue.
________________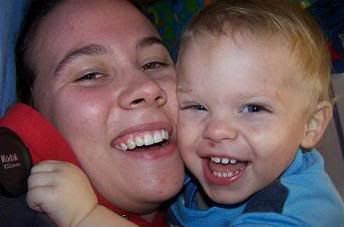 ________________
If you wish to become a "Premmie Parent of the Moment" here at L'il Aussie Prems please submit your details to us. You will be contacted for a photo of your premmie baby(s) when you will be featured on the website.
Click here to view the latest Premmie Parents of the Moment