This is a tale about my little miracle Montana, but to tell her story I have to start with her very special sister/guardian angel Amber. I already have two kids from a previous relationship and my husband Michael has a daughter from a previous relationship. We started seeing each other under a very stressful situation, I was diagnosed with a blood clot on the brain (sagital sinus thrombosis) and put into a coma for two weeks. This was February 2004. Three months later, after suffering seizures and on heavy blood thinners, I found out I was pregnant. After many discussions with many specialists it was thought that it would be safer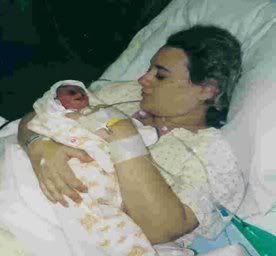 for all involved (my life and that of my baby's) if I continued with the pregnancy. I was due on February 14th 2005, our little Valentine gift. We were so excited. Everything was going reasonable well. I was using Clexane, all appointments with the OB came back great and I was feeling wonderful – then all hell broke loose.  In the early hours of 21st December 2004 I went into very hard and very fast labor. The pain was incredible. We got to the Wesley Hospital in Brisbane as fast as our car could take us, it just wasn't fast enough. Our beautiful perfect little girl Amber Jade was born still that morning – and the life that we had was now forever changed.
She was 41cm and 1.1kg at 32 weeks gestation.  Not only did Michael and I have our own grief to deal with, we also had that of our other children. I can't really remember a lot of the next few weeks after her birth. The funeral is just one big blur, and I can't even remember my daughter's first day of Grade 1. But I survived it. I wouldn't say that it has made me stronger, but losing Amber has taught me lessons I never would have learnt otherwise. I can say that now 3.5yrs later, I couldn't see it at the time. But that's a whole different tale, and this is meant to be a happy one.
Well 3 mths after that I had a miscarriage and then my whole system shut down. No period, piled on the weight, acne galore, mood swings etc, you name it I probably got it. By October 2005 I had had enough and went back to my wonderful OB Dr Stephen Cook. Here I found out that I had PCOD! I'd had it all my life apparantly! I never knew. At least now we had a reason as to why I wasn't getting pregnant, now the journey really starts. After a hard
dose of Progesterone, and then withdrawl from it, we started the long hard process to getting our little ray of sunshine Montana. We tried the Clomid journey, without any success at all. We then started IUI (intra uterine insemination) which we did have success at, but they didn't last. After 4 miscarriages all between 6 and 8 weeks we were getting desperate. We were told that I could only do one more go and then have to have a year off due to my blood clotting issues. We gave it all we had. There were 4 good eggs, 2 more then the doctor wanted, but we took the risk. Two days after my soon to be husband had his bucks party (poor guy couldn't drink for it – hahaha) we took the leap and prayed like no tomorrow. Did the procedure and went to bed for the next 2 days, just to make sure I did nothing stupid to screw anything up (good excuse for a sleep too, and to get the other kids looked after). My doctor had me using progesterone from the day of insemination this time, a daily dose. We got married on 8th July 2006, I was 5.5 weeks pregnant and too scared to tell anyone in case we lost this one too. The next week we went for a scan and they couldn't see anything, I was devestated again. The doctor was scared that it was a tubal pregnancy as I still had pregnancy hormones, so I had to come back a week later. Finally they could see a spot. It wasn't until I was 9 weeks pregnanat that they could definitly confirm the pregnancy, there was a little a heartbeat (only one luckily). I stayed on the progesterone until I was 16 weeks. In the meantime howere I ended up in hospital at 3mths with a secondary blood clot down the left side of my neck. They had me back on Clexane again yet this time my Neurologist doubled the dose that I was on when I was pregnant with Montana. I was told to slow down, stop work, put my feet up and take it easy. As any mother would know, that is not easy when you have other children, but I did do my best (thanks to my mum). Everything was going great with the pregnancy. I started getting braxton hicks very early, at about 4 mths, but then again this was my 4th pregnancy and I was sticking a needle into my stomach every day. On 21st December 2006, Amber's 2nd Birthday/Anniversary we went in for a scan with Dr Frank Carmody (love him) and got some devastating news. She was too small. At 28 wks Montana was predicted to be about 640g and her thigh bone was measuring in at 4.4cm. Went straight to the OB who then spent the next 2 hrs tossing up weather to take her out or leave her in. They gave me steroids in the end and told me to go strai
ght to bed and not to get back up unless it was for appointments. I was told to come into the hospital every 2 days for a scan and a CTG. On 28th December they diagnosed me with Gestational Diabetes – more needles. On 2nd Jan 2007 I was admitted into the hospital and put in bed, given more steroids and put on a drip to control the diabetes that was going haywire due to the steroids. I had a midwife come in and do a CTG four times a day, I had scans every day, my blood pressure was being checked every 2 hours, and I was slowly going insane. After already losing one child the worse scenario was all that I could think of. Every day Montana was still in me was just one more day closer to danger in my eyes. Every day my doctor would evaluate my situation and give a yes or no on delivery. The waiting was driving all of us nuts. When my blood pressure started going through the roof, and the fluid around Montana started to diminish, they decided it was time. Here we were at 32 wks gestation again. As they took me in for surgery (I am not allowed to push due to the blood clot) all I could think was please let her breathe, I just wanted her breathing, anything else I could handle, as long as she was breathing. Finally, with my best friend at my side (Michael was too much of a panicked mess to be of any help) I heard my little girl's cry, it was the most wonderful sound in the world. Since losing Amber I couldn't handle the sound of a newborns cry, but Montana's cry was like music to me, I couldn't get enough of it. It meant that she was here and she was breathing. It was going to be ok.
Montana Rose came into this world on 23rd Jan 2007 weighing in at 1.6kg and 35cm long. She didn't need any oxygen at all. She had all her fingers and toes, 2 eyes and ears, a cute little nose and tongue that kept on sticking out. She was perfect. It was like a huge weight got lifted off me as soon as she came out. All the pain that I had been holding in, all the stress and worry, all my fears – suddenly they were irrelevent, I had my baby and she was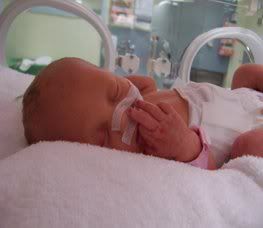 going to be ok. She was in Special Care Nursery for nearly 7 weeks due to her lack of growth and her A's and B's (Apneas and Bracheas). They concluded that she had IUGR (intra uterine growth restriction), and after a look at the placenta (Amber's placenta had blood clots so they wanted to see Montana's) they concluded that the placenta was not up to par so to speak. The 7 weeks that she was in hospital weren't easy, especially so considering the 3 other children that still had to be cared for. Thank god for Grandparents! All the milk runs, all those beeping machines that would make your heart jump every time you heard one. All the talk of weight gain, or lack of it in my case. To breastfeed or not to breastfeed. Heart scans and brain scans, blood tests the list just goes on. But we got through it. Some people think that the time they are in Special Care is the hard time, for me it was when she got home. When she was in hospital she was always monitored, at home she wasn't, this led to no sleep for mummy and daddy. We were so scared that she would stop breathing that we took it turns sitting up with her (17mths later we are paying the price for that wonderful plan). At 6 mths she was the size of a good newborn, mind you she certainly didn't act it. That was the one thing that I wasn't expecting. Everything that I had read and everything that I had been told I was expecting her to catch up in weight and length. It didn't happen. I had this tiny little thing that had full head control and rolling around on the ground. The looks I use to get. I remember going to get the kids from school one afternoon and I had Montana asleep over my shoulder. This little girl told her mum that she wanted a doll like the one that I had, I don't think it realy sunk into her that she was actually real.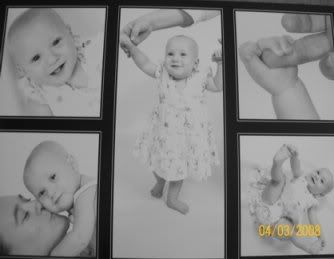 At one year old Montana came in at a huge 6.4kg and 64cm. She was still in infant nappies and wearing 000. Her Birthday Cake was her real first taste at proper food besides her baby cereal. I still get the weird looks from people because she is so tiny doing all these older child things. Her twin cousins are 10mths younger than her and are now bigger than her. Montana does have a couple of concerns, the TSH levels in her tyroid are high and have to be monitored via blood tests every couple of months and she has 3 VSD's that have to be looked at again in another couple of years. We did think that she was going to need surgery for partial fusion of the growth plates in her skull, but luckily for us the CT scans show that it won't interfere with development and the slightly odd shape (it goes up and out a bit at the back) should heal itself with her growth. Her baby doctor, Dr Julian Mellick, has told us that if she keeps growing at this rate she may hit 5 foot (I am 5 foot 4 and my husband is 6 foot 4), which just goes to prove that the best things do come in small packages.
We are coming up to 18mths since her dramatic arrival into our lives and we still pinch ourselves each day that she is really here. Too us she truly is a gift from the heavens. We love her more with each day and even though we have been told to seriously think about not having any more kids, how can you not think about having more when you look at her face, she melts our hearts. We know that if we do try again it will be the same thing all over again. But that risk realy is worth it. I still cry for our little baby girl Amber, I still miss her so much, but if it wasn't for her we wouldn't have gotten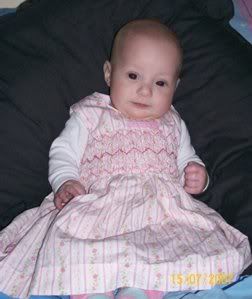 Montana, and for that I feel so grateful for having the chance to carry Amber with me for 32 weeks. I know that she is looking over all of us and keeping us safe. This is a copy of the poem that I had taped to her humidicrib in hospital.
There's a special glow around you,
Surrounded by love, never doubting your'e wanted.
Look at the pride and joy in Mummy and Daddy's eyes,
If sometimes between the smiles there's some tears,
One day you'll understand.
There was another child, a different child
Who was in there hopes and dreams.
She will never out grow her baby clothers,
Or keep them up at night.
In fact, she will never be any trouble at all.
Except sometimes in a silent moment,
When Mummy and Daddy miss so much that different child.
May hope and love wrap you warmly and may you learn the lesson
Forevr how infinitely precious is this life on earth.
Love Mummy, Daddy, Shakira, Taylor, Joshua and Amber (s/b 21/12/04)