Parents Names: Marian and Craig
How many premmie babies do you have? One, Hudson born at 30+3 weeks.
How long were they hospitalised for? He was in NICU for two days and SCN for 7 weeks
Is there any prematurity in your families history? He is the first
How did you cope with the world of prematurity when your child/children were born? The day I left the hospital to go home and had to leave him there was one of the hardest days of my life and I cried all the way home. The first two weeks was very hard – just getting used to all the monitors and noises that happen around you in the SCN. I definately did not cope very well when he would cry and would just break down as well as I couldn't hold him to comfort him….and I have only stopped doing that since he has come home! After those first two weeks it sort of became a routine of going to the hospital everyday, expressing every 2 hours, waiting to have my cuddle, changing nappies, tube feeding and just gazing for hours at this tiny but very strong little baby. If it wasn't for the amazing nurses at the Mater I am sure it would have been a lot harder.
How did you feel when you first saw your child/children after they were born? I remember being quite upset as I couldn't see his face through all the tubes for the CPAP and at all the tubes and monitors coming off his tiny little body. There was definately an overwhelming feeling of love for this little baby and I so badly wanted to be able to hold him and let him know his mummy was right there for him.
Did you find it hard deciding to have another baby or have you decided no more? I have gone from saying "NO MORE" to "IF we have another one" to "give me 3 years and I will THINK about it" but I think we will just enjoy Hudson for the time being.
Have there been any lasting complications due to your child/children's prematurity? if so how have you dealt with it? So far (as he is only 5 weeks corrected) we have fortnightly appointments for ROP (Retnopothy of Prematurity) and we are slowly making progress….I was very upset at the time of diagnosis (stage 2,zone 2 in both eyes) but came to terms with it quite quickly as it seems to be quite common and most babies fix themselves. It's just a waiting game as I keep being told!!
How do you feel now about prematurity and how do you help others be aware of how serious it is for babies? I feel that premmie babies have the strongest will to live and will fight as long and as hard as they can. They are very special little people and the more I can educate people on the importance of being aware that there are many babies born early every year for a variety of reasons and to help out as much as they can by donating to organaisations or voluntering time to make clothes etc for these bub's they will be making other families time in the NICU and SCN that little bit easier.
________________________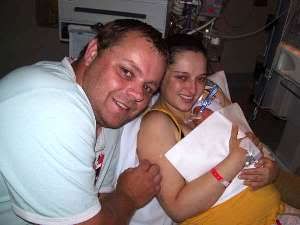 _______________________
If you wish to become a featured "Premmie Parents of the Moment" submit your details to us.
Click here to view the latest Premmie Parents of the Moment