Parents Names: Kristy and Scott
How many premmie babies do you have? I have had 2. My daughter at 21wks and son at 26wks
How long were they hospitalised for? We spent 7wks in the NICU at John Hunter Hospital, 4wks in SCN at Mailtand Hospital and 1wks in Muswellbrook Hospital. A total of 84 days. He came home 2wks before his due date
Is there any prematurity in your families history? My eldest borther was born 6wks early, second brother was born 3wks early.
How did you cope with the world of prematurity when your child/children were born? Before Delacey was born i didnt even know what a NICU was let alone been in one. I was lucky i think i had my hubby come down every weekend to visit plus i meet some lovely ladies that had babies in the NICU, we would talk about what we are going through event what we wanted with our pregnancys. My parents were great Dad would come down every weekend to visit him, but he was strong when he was in the NICU but when he would leave he would be crying cause he couldnt help him. I would ring my parents every night to tell them what was happening with delacey and they would just listen.
How did you feel when you first saw your child/children after they were born? I was more shocked then anything that something so little could be so presious to me, but yes i was so scared, that i didnt want to see him, but when i saw the top of his head (before they took him away) i knew that i would love him no matter what. After seeing him i was happy that he was a little fighter.
Did you find it hard deciding to have another baby or have you decided no more? After losing my daughter in the december of 05 then finding out that i was pregnant it was hard cause i can say that i didnt want him then, i thought that something was going to happen to him. When i reached 22wks i knew then that everything was going to be ok. We are undecided about having more cause i dont want to go throught the hole NICU expreience again but if we fall then well see what happens
Have there been any lasting complications due to your child/children's prematurity? if so how have you dealt with it? Delacey has a speech delay, we go the speech every wednesday to help him, He goes to an Early Intervention Program to help him slow down and to help with his seperation from me. We are having hearin test as they thing he has a slight hearin loss.
How do you feel now about prematurity and how do you help others be aware of how serious it is for babies? Understand that prematurity can happen to anyone at any time. Its hard to go through having a baby born early let alone having your family away from you at a time when you need them.
________________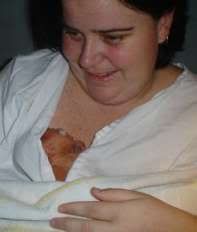 _________________
If you wish to become a featured "Premmie Parents of the Moment" submit your details to us.
Click here to view the latest Premmie Parents of the Moment