Karen is no ordinary mum. As well as caring for her own six young children, the tireless Karen also finds time to sew exquisite little gowns and blankets for the benefit of some of Australia's most premature babies.
Karen's sewing machine produces a never-ending stream of beautiful garments in the most cheerful fabrics she can find, designed to meet the needs of babies in intensive care and warm the hearts of thos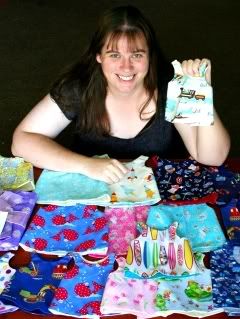 e who care for them. Since Karen started sewing her little garments she has donated 155 gowns across Australia.
Karen sends her gifts of love to families across Australia, most of whom she will never have the opportunity to meet. Her thoughtfulness and generosity have lead to her recently being nominated for a "Local Premmie Hero" award by one of the many people touched by her kindness. Karen shyly comments "I know what it is like to have a child in hospital, and I am more than happy to send families a gift and bring a smile to the faces of those with sick and premature babies around the country."
If you wish to nominate a "Local Premmie Hero" please visit www.lilaussieprems.com.au/hero by the 30th April 2009.