November 24-30 is Austprem's National Premature Birth Awareness Week . Their aim is to increase awareness amongst ALL pregnant women of the signs and symptoms leading to premature birth.
I knew absolutely nothing about preterm birth before Talia was born, but apparently around 8% of babies in Australia each year are born earlier than 37 weeks gestation, and these babies have a much higher risk of long term health problems than babies who reach full term. The earlier the baby, the greater the risks.
Like about half of the mothers who have premature babies, I was not in a high risk category – no previous history of premature birth, not having twins or more, no known abnormalities of my cervix or uterus. No illness during pregnancy, no high blood pressure or symptoms of pre-eclampsia.
In retrospect, it was obvious that I lost the plug from my cervix the week before Talia was born, but I didn't realise what it was at the time. It was just mucous, and I wondered if I had a minor infection but had been unable to get an appointment to see my GP before the weekend. As I wasn't in any pain, I decided it was OK to wait. Then the cramping started. I looked in my pregnancy book, which helpfully told me that cramping in the first trimester was probably a miscarriage, and cramping in the third trimester was probably the onset of labour. It didn't say anything about the second trimester.
I rang KEMH on a hot Saturday afternoon and asked them if I should be worried. They asked if I had a back ache, blurred vision or nausea. I didn't. They said it was probably nothing, but I might as well come in to be checked, just to be on the safe side. My husband was away and I was only going to sit at home and worry about things, so I grabbed my handbag and got in my car. No thought of packing an overnight bag. No idea that I would need more than 2 hours parking. No clue that my life was about to be turned upside down.

The scary thing is that if I'd lived further away, already had a child to care for or something important to attend, I might not even have bothered to go that afternoon. I might have waited until later – and it might have been too late for steroid injections. I might even have lost my baby. Fortunately I trusted my "mummy instinct" even when I knew so little about what was happening.
So here is the information in a nutshell. If you have any of the following symptoms of premature labour – call your health care provider or go to the hospital right away .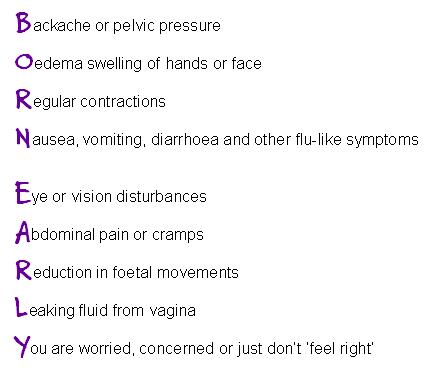 It's much better to be safe than sorry. If you really are in labour, the sooner doctors can try to delay your labour or give you steroids to speed up your baby's lung development, the better your baby's chances of survival and good health.